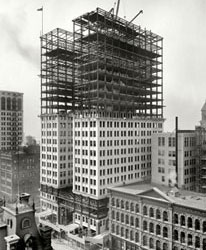 Many guests have asked us where the Dime Store name comes from. Dime Store pulls from two pieces of Detroit history:
First, Dime Store is located inside what was once called the Dime Savings Bank Building. Completed in 1912, it's one of the oldest skyscrapers in Detroit. It was named after the Dime Savings Bank, which earned its success for the launch of a then-novel idea: offering customers the opportunity to open a savings account for as little as a dime.
Second, in the mid-20th century, variety stores, also known as "dime stores" or "5 & 10s," grew in popularity in cities around the country, including Detroit.
Dime stores sold an assortment of household goods and often had lunch counters where hungry shoppers could stop for a bite.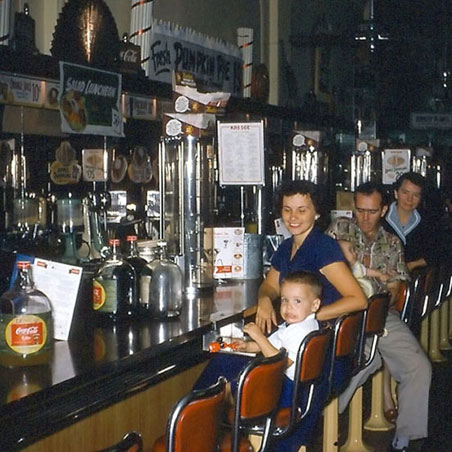 Perhaps the most well known of the dime stores in Detroit was Kresge's, which was renamed K-mart in 1977. Ask any Detroiter who grew up in the mid-20th century and they will most likely have fond memories of dime stores.
Given its historic origins, Dime Store's interior takes on a vintage look with 50+ year old school chairs, 1960s-style glass globe lighting, antique milk shake machines as wall decorations, leather bucket bar stools, and the aged Dwight D. Eisenhower poster that overlooks the dining room.
There are also several hand-painted murals inside Dime Store that were inspired by the Mercury Dime, which was in circulation in the first half of the 20th century. On one end of the dining room, you'll find the "head" of the dime — winged Liberty — and on the other end, the "tail" — a large olive branch.